GRITSY CHRISTMAS TOY DRIVE w/ MATTY G!
Saturday, December 19th, 2015 @ the THE HIVE!

We're excited to host a holiday toy drive benefiting the kids @ the MD Anderson Children's Cancer Hospital!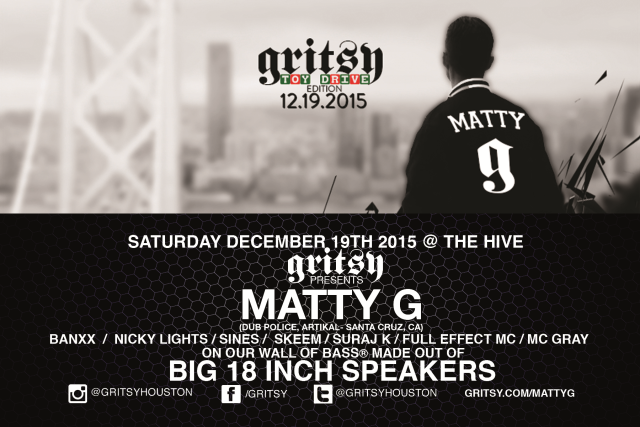 Dive deep w/ the Gritsy WALL OF BASS® & musical vibrations built by very special guest…
MATTY G
(Artikal Music UK / Dub Police)
Alongside the bass music vibes of:
Banxx
Nicky Lights
Sines
Skeem
Suraj K
Full Effect MC
MC Gray
NO presale available, door only.
$5 cover all night w/ a new & unwrapped toy.
$10 cover all night w/out!
Location:
THE HIVE
4701 Nett St.
Houston, TX 77007
Due to the health status of patients, all donated items must be new.
Here's their wishlist & craft supplies are welcome too:
Toys and Gifts
• Fisher-Price Little People play sets
• Trains, especially Thomas the Train
• GeoTrax cars and accessories
• Fisher-Price Imaginext play sets
• Fisher-Price medical play kits
• Action figures (esp. super heroes)
• Transformers
• K'nex and Lego sets
• Magna Doodle/Magna Doodle Pro
• Matchbox cars
• Princess dolls and figurines
• Toddler toys (especially with lights and sounds)
• Puzzles (esp. 24-48 piece)
• Video games for Wii, PS3, Xbox 360, DS
• New releases and recent DVDs
• $10 – $20 gift cards for iTunes, Target, GameStop, Best Buy, etc.
• Baby dolls (all plastic)
• Dora/Diego toys
• Word search, crossword puzzle books (small / large print)
• Board games (all ages)
• Uno and playing cards
Craft Supplies
• Beads (pony, glass, jewelry making)
• Stickers and sticker scenes
• Yarn and string
• Color Wonder products
• Construction paper
• Crayola colored pencils
• Crayola crayons (washable)
• Crayola markers (washable)
• Fabric markers
• Fabric activities – bags, pillowcases, hats
• Glitter pens
• Paint pens
• Play-Doh and accessories
• Pre-packaged craft kits
• Scrapbook kits
• Journals and writing supplies
• Watercolor paints
Big thanks & stay tuned for our NYE event details!
Follow us online:
IG @gritsyhouston
Twitter @gritsyhouston
fb.com/gritsy
GET
TO
KNOW
THE
MATTY G
SOUNDS!