GRITSY SWOBPLATE EDITION w/ DISTANCE, TUNNIDGE & DISTRICT SATURDAY, NOVEMBER 17TH @ WAREHOUSE LIVE!
SATURDAY, NOVEMBER 17TH @ WAREHOUSE LIVE!
Saturday, November 17th at Warehouse Live! We're busting out the SWOB (Super Wall Of Bass) for the only Texas stop of the 2012 Chestplate USA tour with the legendary likes of:
Latest tracks by DISTANCEofficial
@distance_dj
soundcloud.com/distance
www.facebook.com/Distanceofficial
@tunnidge
soundcloud.com/tunnidge
www.facebook.com/tunnidge
@district2019
soundcloud.com/district
www.facebook.com/districtchestplate
[Click the flyer for the FB event page]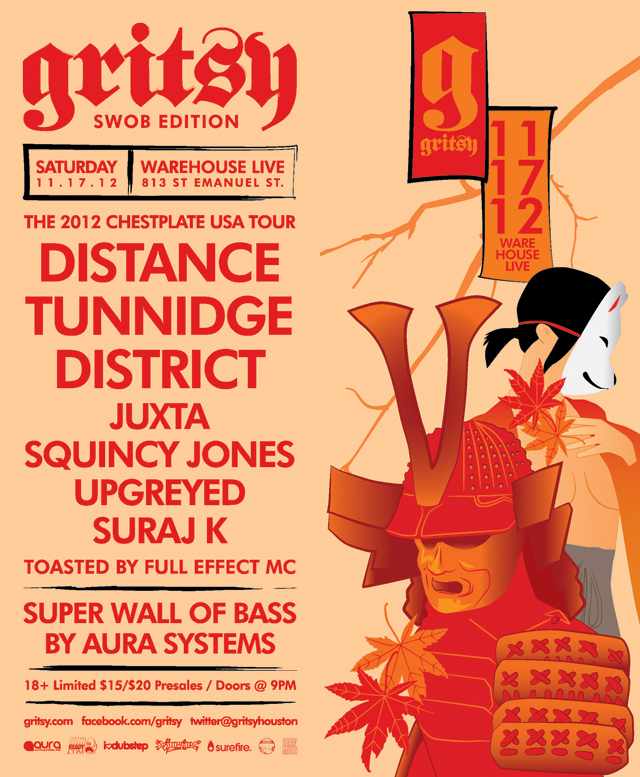 Alongside BASS fueled sets by:
JUXTA
SQUINCY JONES
SURAJ K
UPGREYED
Hosted & toasted by
FULL EFFECT MC & KAM
@gritsyhouston
soundcloud.com/gritsy
www.facebook.com/gritsy
BUY PRESALE & GET IN CHEAPER!
IT WILL BE MORE @ THE DOOR THE DAY OF THE SHOW!
LIMITED $15 & $20 presale tickets are available thru Gritsy reps & at Kingpinz Skateshop:
Kingpinz Skate Shop / (713) 783-5506
Online tickets are available at:
www.warehouselive.com
Location/Details:
Warehouse Live
813 St. Emanuel
Houston, TX 77003
18+ to enter / 21+ to drink
Doors: 9pm-300am
SUPER Wall of Bass by Aura Systems.
www.aurasystems.net
For up to the minute info, keep it locked to Gritsy online @
www.gritsy.com / www.twitter.com/gritsyhouston / www.facebook.com/gritsy
Here's a few Distance, Tunnidge & District YouTubes.
GET TO KNOW!
#SWOB
#SWOB
#SWOB
#SWOB
#SWOB
#SWOB